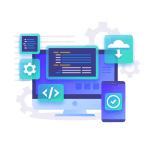 WordPress Development Intern
Employment Type: Internship
Currently pursuing or recently graduated with a degree in Marketing, Business, or a related field
Basic knowledge of wordpress
Ability to explore new plugins taught by Kosha's expert professionals
WordPress Development Intern Roles and Responsibilities
Website development: Designing and developing custom WordPress websites, themes, and plugins, as well as customizing existing templates and themes to meet the specific needs of clients.
Website maintenance: Maintaining and updating existing WordPress websites, including troubleshooting issues, fixing bugs, and performing regular security updates.
Integration with third-party tools: Integrating WordPress websites with other tools and platforms, such as e-commerce platforms, email marketing tools, and analytics tools.
Customization and optimization: Customizing WordPress websites to optimize performance, improve user experience, and enhance functionality, including implementing responsive design and mobile-friendly features.
Technical support: Providing technical support to clients and end-users, including answering questions and resolving any technical issues.
Collaboration with stakeholders: Working with stakeholders, such as designers, marketers, and project managers, to ensure that websites are delivered on time and to the appropriate standards.