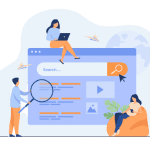 Employment Type: Internship
Basic knowledge of search engine optimization (SEO) principles and techniques. This includes an understanding of on-page optimization, off-page optimization, and keyword research.
Familiarity with web analytics tools, such as Google Analytics, and the ability to interpret data and make recommendations based on that data.
Basic understanding of HTML, CSS, and other coding languages.
Good written and verbal communication skills, as the intern may be responsible for creating and updating content for websites.
Ability to work independently and as part of a team.
Strong attention to detail and ability to multitask.
Some experience with social media marketing and online advertising may be a plus, as these are often related to SEO.
SEO Intern Roles and Responsibilities
Conducting keyword research to determine target keywords and phrases for optimization.
Analyzing the website's current SEO performance and making recommendations for improvement.
Implementing on-page and off-page optimization techniques, including content optimization, meta tag creation, link building, and more.
Monitoring and tracking the website's search engine rankings and traffic, and making adjustments as needed to improve performance.
Staying up-to-date with the latest SEO best practices, algorithms, and trends, and incorporating them into ongoing optimization efforts.
Collaborating with other teams, such as content, design, and development, to ensure that SEO considerations are integrated into all website projects.
Producing regular SEO reports for clients or internal stakeholders, including ranking reports, traffic reports, and conversion analysis.