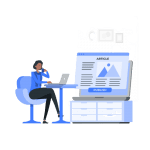 Employment Type: Internship
Currently pursuing or recently graduated with a degree in Journalism, English, Communications, or a related field
Excellent writing and editing skills
Passionate about learning additional skills
Knowledge of SEO (search engine optimization) best practices
Experience with creating various types of content (blog posts, social media posts, email campaigns, etc.)
Ready to apply Creative mindset and ability to think outside the box
Content Writer Roles and Responsibilities
Content creation: Writing, editing, and proofreading a wide range of content, including blog posts, articles, product descriptions, case studies, and more.
Staying up-to-date with industry developments: Staying informed about new developments and updates in the world of content writing, and incorporating best practices into content creation.
Content management: Managing the content creation process, including tracking deadlines, reviewing content for quality and accuracy, and ensuring that content is delivered on time and to the appropriate standards.
Collaboration with stakeholders: Working with stakeholders, such as marketing and product teams, to understand content requirements and ensure that content aligns with overall business goals and objectives.
Keyword optimization: Ensuring that content is optimized for search engines by incorporating keywords and using best practices for search engine optimization (SEO).
Research: Conducting research to gather information and data for content creation, including industry trends, competitor analysis, and customer insights.