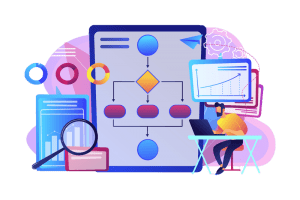 Employment Type: Full Time
Bachelor's degree in computer science, mathematics, or engineering required to join as a system analyst.

Knowledge of project life cycle.
System Analyst Roles and Responsibilities
Implements computer system requirements by defining and analyzing system problems, designing, and testing standards and solutions.

Collaborates with Business Analysts, Project Leads, and IT team to resolve issues and ensuring solutions are viable and consistent.

Support key application(s)within CLIENT landscape including:
Designing new computer systems and frame works.
Troubleshooting technical issues.
Risk mitigation planning.
Create system guidelines and manuals for the organization.
Run training sessions and workshops on system processes.
Conducting regular reviews of systems and generating reports on efficiencies and improvement areas.
Structuring and prioritizing business requirements and communicating plans with stakeholders for review and approval.
Defines application problems by conferring with clients, evaluating procedures and processes.
Develops solution by preparing and evaluating alternative workflow solutions.