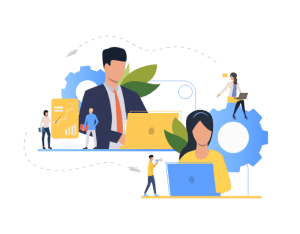 Employment Type: Full Time
Bachelor's  degree  or  equivalent,  five  (5)  years  of  information  technology project  management experience.

Proficiency with Microsoft Office, Visio and Microsoft Project, or other Project Management software is required.

Agile Certified Practitioner (PMI-ACP) or similar certification is preferred.

Project Management Professional (PMP) certification is preferre
Program Manager Roles and Responsibilities
Performs project development for medium to large projects of moderate to high complexity.

Exemplary, advanced interpersonal, conflict resolution and leadership skills.

Excellent and very persuasive oral and written communication/presentation skills.

Strong background in Scrum software development framework, preferably Scrum Master.

In-depth understanding of Agile Development methodology principles.

Advanced knowledge of concepts, practices, and procedures in field of specialty.

Maintains a good working knowledge of processes and best practices and legislative initiatives, regulations, or activities in area of responsibility.

Directs the design, testing and documentation of application programs in all phase of application development for medium to large projects.

Interdepartmental performance using tact and diplomacy.

Coordinates  activities  and  programs  with  other  departments  to  expedite  and improve.

Translates and applies the enterprise vision to all system, technical and application projects.

Analyzes  and  translates  business  strategies,  plans  and  requirements  into  IT support  systems, working with users to define system requirements and resolve problems.

Coordinates project activities across all concerned departments, users, IT, external suppliers, sub- projects, and other project teams.

Manages project progress and budget and reports on a regular and timely basic to appropriate parties.