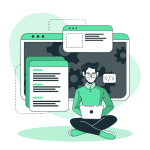 Experience – 3 to 8 Years
We are looking for a .Net developer, you should be able to write functional code with a sharp eye for spotting defects. You should be a team player and excellent communicator. If you are also passionate about the .NET framework and software design/architecture, we'd like to meet you.
Your goal will be to work with internal teams to design, develop and maintain software.
Knowledge of C# 8 and later

Experience with dotnet core 5 & Later

ASP.NET Core 

EF Core

SQL

Understanding of SOLID principles
Experience using libraries like MediatR, Auto Mapper, Fluent Validator,NLog

Understanding of CQRS 

Experience working with Redis

Experience working with PostgreSQL

BSc/BCA/MCA, Engineering or a related field.