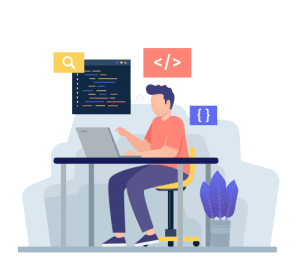 A full stack developer is a web developer or engineer who works with both the front and back ends of a website or Application. Full stack developers are becoming increasingly popular as the line between back end and front end development continues to blur. In the past, web developers tended to specialize in either the front end or the back end of web development. Now, full stack developers are in demand as companies seek out developers who are comfortable working with both the front and back ends.
Employment Type: Full Time
Experience Required: 5 – 8 year
Education: Any Graduate in Computer Science.
Salary: As per Industry Standard.
Full Stack Developer Roles and Responsibilities
To work on all aspects of the web application including the front-end, back-end, and database
Should be able to code in multiple programming languages and have a good understanding of databases
Should also be able to work in a team environment and be able to take direction from a lead developer
Top Skills & Proficiencies
Strong understanding of both front end and back end development

Working knowledge of HTML, CSS, and JavaScript

Must be able to work with a variety of programming languages, including PHP, Ruby on Rails, and Node.js