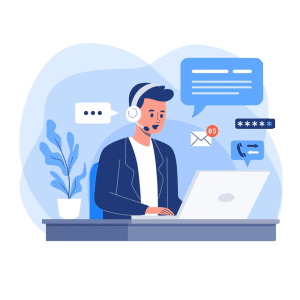 Associate Customer Support Analyst
Employment Type: Full Time
High school diploma or equivalent with three (3) years of information technology work experience;

Knowledge of mainframe systems, related software, business principles and procedures.
Associate Customer Support Analyst Roles and Responsibilities
Ability to work independently or as part of a team.

Ability to communicate with vendors to resolve non functioning equipment problems arranging for replacements and/or exchanges.

Experience coordinating deliveries and installation of equipment to user installations and performs tests to ensure the system is operating properly, de-installs equipment and provides replacement system as required.

Experience in configuring and installing PCs and related software and set up and configure network connections to file servers, application servers and the Internet.

Ability to assemble hardware and software components, performs hardware and software integration.

To provide a stand-alone computer system and ensure it is operating as it is designed and operates properly.

Verifies hardware and software shipments against County purchase orders and inspects equipment upon arrival.

Ensures  that  equipment  is  delivered  in  good  condition  and  contacts  vendor(s)  to  resolve  any problems (delivery, equipment, etc.) 

Coordinates delivery schedule and destination of computer hardware and software.

Ensures that all equipment is ordered by purchase orders and verifies delivery dates.

Coordinates orders for needed computer equipment.

Monitors and manipulates computer setup options for routine computer operations.

Must be able to coordinate ordering, receiving, inventory, assembly, integration, check-out, delivery and installation of personal computer related hardware and software.

Must be able to provide first level PC technical support for all County employees and remote sites for both hardware and software.

Must have good oral and written communication skills, strong analytical and organizational skills, ability to solve problems quickly and completely and coordinate activities simultaneously.