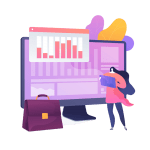 Application Support Senior Program Analyst
Employment Type: Full Time
Bachelor's degree or equivalent with five (5) years of information technology programmer analyst experience. Must have a valid and current driver's license.

Current  relevant  experience  with  web  application  development  using  Java  platform  along  withHypertext  Markup  Language  (HTML),  Cascading  Style  Sheets  (CSS),  Extensible  Markup  Language (XML), Extensible Stylesheet Language (XSLT), and JavaScript or Microsoft Visual Studio (2008 and newer), SQL Reporting Services (SSRS), SQL Server Integration services (SSIS), Online Analytical Processing  (OLAP)  and  Online  Transaction  processing  (OLTP),  and  Open  Database  Connectivity (ODBC). Licensure or certification not required but considered a plus.

Experience or training in systems analysis and design using Unified Modeling Language (UML).
Application Support Senior Program Analyst Roles and Responsibilities
Excellent and very persuasive oral and written communication/presentation skills.

Ability to communicate with senior-level Application Programmer Analyst, end-users, and third-party vendors to obtain requirements for projects and application updates for small, medium, and progressively more complex applications.

Experience in writing programs for specific applications and designing special reports and forms as requested by various County departments in compliance with County and IT department policy and procedures.

Experience in analyzing and resolving small, medium, and progressively more complex application and data problems via the web, Internet, and Intranet and/or client-server.

Exemplary, advanced interpersonal, conflict resolution and leadership skills.
Top Skills & Proficiencies
Support key application(s)within CLIENT landscape including: 
Sales Force
VGS
 VISTA
Embed
Oracle Micros / Symphony
Omnico
Adaco